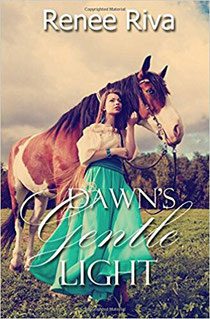 Tis the season! I LOVE curling up by my fire with a good old fashioned Christmas Story. When I was 7 years old I got Little House in the Big Woods for Christmas.My family decided to go snow skiing in the mountains that day but I somehow talked my mom into leaving me in the car with my book, for about 4 or 5 hours while the rest of the family went skiing while I read my book. You have to remember this was the year 1966 and things like this were considered somewhat normal. Needless to say I had a great time finishing Laura Ingalls Wilder's Adventure in the back of the family station wagon with my dog in the mountains on Christmas Day. I had another fun experience recently that was almost as cozy. I finished producing my first audiobook Dawn' s Gentle Light: a Russian love story , a few weeks ago. I curled up by my fire and listen to the whole story told by Susan Ianucci, my fabulous narrator and storyteller.
It was amazing to hear my story dramatized just like the good old days listening to stories on the radio. It didn't even sound like my own story but this incredible Adventure that somebody went on back in 1908 Russia. It was a sweet friendship between a young girl and boy that blossomed over the years into a Sweet Love Story. The Exciting thing is, I have 4 more of my inspirational romances coming out on audiobook in the next month as well. I hope you will join me and see how fun it is to hear someone tell you a story while you're trying to get some work done or driving or just sitting by a nice warm fire relaxing. I hope it brings you Joy, and I hope this Christmas is a blessing to you and your family and those you love. For me, I love knowing that God loved us so much, and still does that he sent his son to let us know that we aren't alone down here and there are good things ahead  still to come. I hope that brings you comfort and hope as well. Merry Christmas to you all and God bless us everyone.
P.S. If you or someone you know likes to write reviews in exchange for free audiobooks on audible /amazon, please send me a note below in comments and I will send you a free promo code for one of my audiobooks.