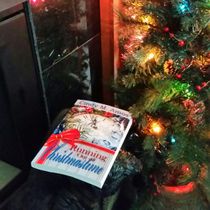 This title says it all when we come to the final countdown toward Christmas. Running out of Christmastime is often where we find ourselves 3 days before Christmas. But it doesn't have to be this way if we change our expectations and perception of what Christmas should really be about. My friend Cindy Amos has helped me to slow down and enjoy a sweet cozy read by the fire that reminds me of family, good friends, kind relationships , and ultimately, the Birth of Christ. I love that her stories include all of these elements. I hope you will find time--or make time to pull back with something that draws the important things back to mind. It may be as easy as sitting down with a good, sweet story that touches our heart.

 

The Word became flesh and dwelt among us. We have seen his glory,

 

the glory of the One and Only, who came from the Father, full of grace and truth. John 1:14 

  Cindy M. Amos writes inspirational fiction from Wichita, Kansas, but she escapes to the Amos family ranch each weekend to get lost out on the tallgrass prairie of the Flint Hills. As long as she walks with her hoe in her hand pretending to work, she can explore all the wildflowers on the hillside and track a few birds along the creek. A sentimental ecologist, she's been keeping a nature journal for the past fifteen years, recording lessons learned from nature as the seasons progress full circle. Her uplifting inspirational fiction reflects the theme of man living close to the land. Her heroines tend to be beautiful, strong, and savvy. She closes out 2017 with 15 books in print, plus five boxed collections. Her dreams of becoming an author with a distinct message that entwines stewardship and faith are coming true, book by precious book.

 

For hobbies, Cindy enjoys quiet pursuits like nature study while hiking, bike riding (especially along Rails to Trails), gardening, home canning and baking cherry pies. She surrendered her career in endangered species conservation to raise two sons, both now in college for engineering. Cindy is married to an aircraft engineer who pretends to be a farmer/rancher on the weekends.