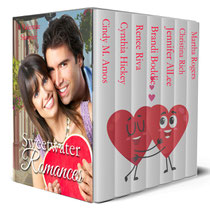 If you're like me, my reading selections change with the seasons and holidays. I'm easily influenced visually. When the first snow comes, I have to either read or write a holiday story. Now that all of the twinkling, colored lights are turning to red hearts and Valentines, I find myself looking for sweet love stories--hopefully ones that involve a little chocolate inside those shiny red heart-shaped boxes.
I'm really excited about the Valentine sampler Foget Me Not Romances just released: Sweetwater Romances. I'm not just excited about my story, Sweetwater Cafe,  being among the other six, but all seven of our stories are interconnected with each other; they all take place in the small town of Sweetwater, Kansas. 
Each of the authors got to pick a shop to be in charge of. We have a cafe, a candy shop, a dress shop, a hardware store, a B & B and more. My character, Shelby is a waitress at the Sweetwater Cafe and gets swept off her feet by  hunk-a-hunk Chase Tanner who comes to town to restore an old barn. I also got to add snow and and ice skating beneath a full moon on a pond to their romantic night out. And, of course, I  added a nice dose of romance the way it all ends as well.
I hope y'all will take advantage of our seven story sampler for .99 on kindle. Don't worry about being too busy to read. We called this a sampler for a reason. All of our stories are short novelettes so you can squeeze them in here and there when you have an hour or so to relax. This promo won't go much longer so I hope you will carve out some time for a collection of sweet reads. And don't forget to stop by our FGMN New Year's Party on Facebook to win prizes daily through the entire month of January.https://www.facebook.com/groups/400037533750695/
 Happy Valentine stories to you!!
Xoxo